My American Hometown



Firestone, Lakewood Boulevard
Sounds nice, doesn't it?
The picture is much in harmony
Where the "fire" and the "lake" meet.

But that's not what I want to tell you
About Downey, my hometown pride;
We have the oldest McDonald's
And the home of the space shuttle, side by side.

My hometown pride is a family at heart
And my heart lies at Rancho
The place I call home,
It took me in two decades ago.

Here I have been touched by patients
Who model LIFE in close-up
A poet's fortune to witness pain and healing
That nurtures his spiritual grown-up.

A physician named Comarr
Blessed me with a great asset of life
His smiling devotion to his patients
And his love for the lowest ones in line.

A nurse named Bates who exemplifies
The true meaning of nursing
One would never forget her genuine care
That comes from the heart of a dear human being.

A volunteer for life named Little Major
She was petite but so grand in spirit
Her wheelchair left the prints of her soul here
She had given herself to others unnoticed.

If you go for a stroll at the 900 courtyard
A sculpture of a polio person holding the crutches
Her eyes reflect a whole world of determination
Being a healer, Dr. Barras inspires her dear patients' destinies.

Summer 1998 marked the seventh consecutive year
My Rancho stays on the top-ten of America's Best Rehab Hospitals
For the humanity she has carried past one century
For her touch of healing, my tears of thanks to God and all…

Linh Duy Vo
July 1998 ©

The poem was cast on a bronze monument and presented with love to the City of Downey, California, on Thanksgiving Day 1998. It may be seen at the entrance of Apollo Park's Senior Center.
An Angel
(Doctor Jacquelin Perry *)

An Angel folded her wings
She sat in a chair
In front of the LA Board of Supervisors
She appealed to the politicians
Not to clip her wings
To let her patients soar with her
She has dedicated her whole life
To be the wings of Rancho patients
She has flown every corner of the globe
Many have been touched by her healing...
Ask the top physicians in the world,
They know her.
But at the LA Board Hearings
Only one supervisor knew her...

Linh Duy Vo
January 29, 2003 ©
Poet's Note: Physical Therapy students at Universities and Colleges around the world use Dr. Jacquelin Perry's Text Book entitled "Gait Analysis".
*This poem was written after the Los Angeles County Board of Supervisors Hearing, which was to intend to downsize/close the top-ten Hospital in the country. I was among the supporters as our beloved Doctor Jacquelin Perry was sitting in the front of the Board to fend them off from hurting her patients.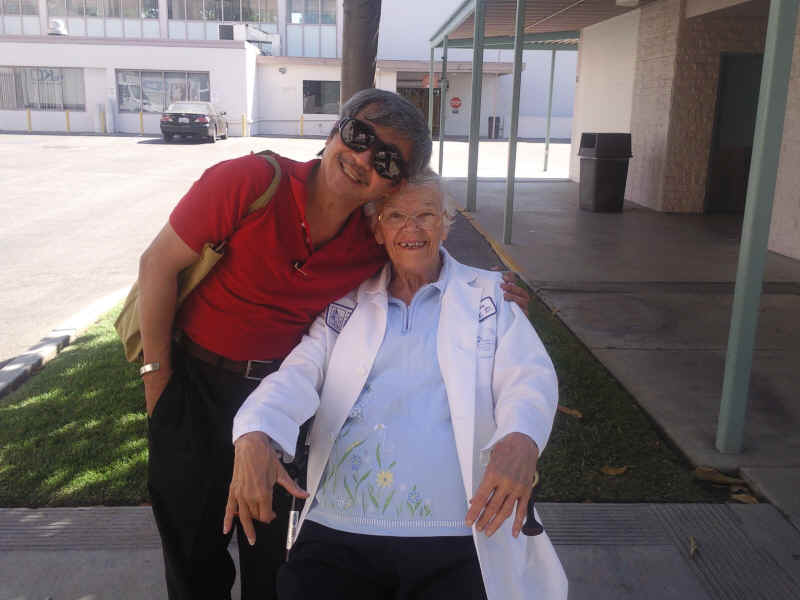 Dr. Perry
Peace has permeated Rancho
Ever since you came to this "poor farm"
Rendering your touch of healing
Rain or shine, you are there for your patients
Your golden heart inspired me to write this poem...
Linh Duy Vo
May 11, 2005©

This poem was written on the spot as Dr. Perry suggested me to write one for her as we sat the banquet table. It was the reunion of retired Rancho employees. I am not retired yet!
God Bless You
(With love to Diane C. Mitchell, M.D., on behalf of the children of
Rancho's Spina Bifida clinic -- they counted on you to tuck them
into bed, and you stayed late into the night on your own time...)
To you, Dr. Mitchell, our beloved healing angel,
the loving kindness wherever you go;
Happy retirement with good health,
the very mission you have etched at Rancho.

Linh Duy Vo
January 23, 2000©
© Copyright by Linh Duy Vo. All rights reserved.